Our Philosophy
Musquaro Lake Club wants to be its guests' favorite destination for fishing and relaxing with incomparable facilities and hospitality. We have surpassed the expectations of our clientele for over 60 years and we want to perpetuate this privileged relationship by continually improving our services, because your satisfaction remains our greatest concern.
With exceptional fishing, excellent equipment, a warm welcome, and a thoughtful team, we provide a peaceful and worry-free retreat for our guests. Thanks to our experienced and attentive staff, the Musquaro Lake Club ensures that you have a never-to-be-forgotten experience marked by friendly helpfulness. And all with simplicity and a smile!
A vast natural territory
The Lake Musquaro Club opened in 1950. Situated in one of the most beautiful areas of northern Quebec and accessible only by seaplane, our Outfitter offers you a lake with a shoreline of more than 300 miles (500 kilometers) and scenery that will take your breath away!
Download the map of our territory to obtain more details and to fully appreciate its size.
Characteristics of the site:
300 miles (500 km) of shoreline
Includes Musquaro Lake and Lake d'Auteuil
Accessible only by seaplane
Tremendous fishing
The quality and the abundance of the catches as well as our exceptional welcome established the reputation of the Musquaro Lake Club, recognized as the paradise of the famous landlocked Atlantic salmon. In fact, more than 2,000 landlocked Atlantic salmon make up our guests' catches every year. In addition to this species, Arctic char and speckled trout also abound in the waters of our lakes.
Musquaro Lake Club offers you an exceptional quality of fishing that will contribute to making your experience an enduring memory.
Characteristics of the fishing:
landlocked Atlantic salmon, arctic char, speckled trout
Regular fishing, fly fishing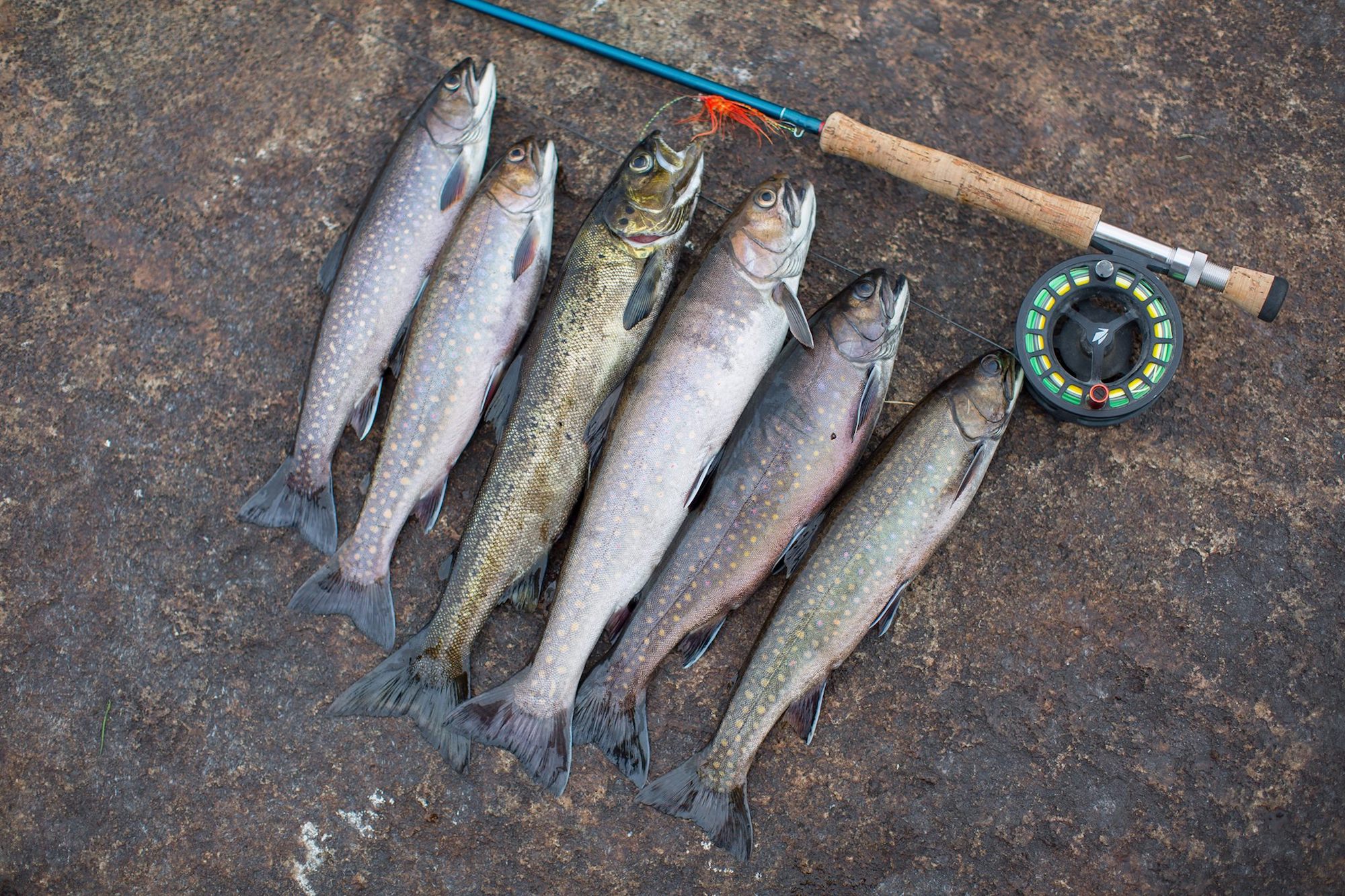 Top-of-the-line treatment
The warm atmosphere at Musquaro Lake reflects the top-of-the-line treatment that we have been offering our guests for more than 60 years. Throughout your stay, everything is organized so that your break with us will be pleasant and, above all, worry-free.
In order to ensure that your visit is both entertaining and enriching, we rely on our experienced team, devoted to giving you personalized service of an exceptionally high quality.
An abundance of flavors and attentiveness
Don't worry about the time or the direction. Our qualified guides take you out in 18-foot fully equipped boats. Coexist with nature in complete safety on a majestic stretch of water and make the most of the exceptional quality of the fishing.
Shore lunches are definitely the high points of a stay with us. While you are sipping an aperatif, our guides bustle about, preparing your meal. Whether your fish is fried, grilled, cooked in foil or paper parcels, or prepared raw in sashimi, you are assured of a treat!
During your stay, our staff will see to cleaning your fish and carefully packing them in boxes that we provide for transport. We also offer you the possibility of smoking your fish, a delight that will satisfy the taste buds of the finest gourmets.
Musquaro Lake Club is the ideal place to allow yourselves to be pampered by all the nice little extras that the members of our team provide for you!
Characteristics of our service:
1 guide for every 2 guests
Lunches prepared on the shore
1 room attendant/kitchen server
Impeccably clean and spacious boats driven by our hardy guides (40 to 60 HP)
We have three entirely renovated cottages available to our guests, offering all the comfort and privacy that you could desire as well as a soothing view of the lake and of the spellbinding landscape that surrounds you. These cottages, of various sizes, can accommodate 2 to 8 people, for a total of 12 people per visit.
We would like to take care of you and to free you from your daily chores. Your stay with us on the American Plan will delight you, thanks to our tasty meals. Characteristic of the Lower North Shore region, our cuisine combines local specialties with culinary sophistication. When you go fishing, lunches on the shore are equally special times, allowing you to savor freshly caught fish in a majestic setting.
Description of the cottages and services :
Running hot and cold water
Wood stove/fireplace (gaz heater in the smallest cottage)
All linens and bedding (sheets, blankets, towela and face cloths)
3 cottages with bathrooms that can accommodate 2 to 8 people (the number of bathrooms varies with the size of the cottages)
A stay at the Musquaro Lake Club is guaranteed to have exceptional and enduring moments. Neither the locations nor the fish can keep any secrets from our team of experts!
Attentive to your needs and preoccupied with accompanying you with professionalism, cheerfulness, respect, and discretion, all of our courteous and committed staff have one clear objective: to contribute to your enjoyment.
Plan your next outdoor escape with us at Musquaro Club